A PICTORIAL HISTORY OF THE COLOURS AND MARKINGS OF THE MIRAGE IIIO
by Paul Mason and Darren Mottram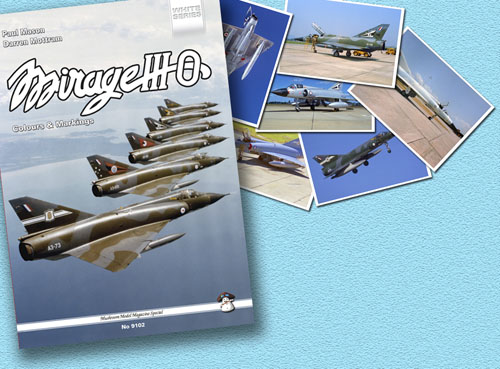 The book includes;
-A brief history of the Australian Mirages development and use.
-A comprehensive coverage of the major colour schemes and markings worn by the Mirage IIIO in RAAF service (natural metal, silver, lizard, standard and grey).
-Details of unique, special event and non standard schemes worn on individual aircraft.
-Identification markings, temporary camouflage, zaps and other temporary or unusual markings.
-A walkaround of airframe, cockpit and weapons.
-Photos of all 116 RAAF airframes (and a couple of others).
-Detailed colour profiles by noted aviation illustrator, Juanita Franzi.

It will be A4 size, approximately 280 pages with approximately , most of which are from private collections or official archives and have not been seen before.

PRE-ORDERS

are now being taken via, the Mushroom Models Publications website at; http://www.mmpbooks.biz/main.html (see the bottom of the front page or; http://www.mmpbooks.biz/books/8389450143/8389450143p.htm ) or contact the publisher,Roger Wallsgrove, by e-mail

.

Please note that Mushroom is also offering special discounts on postage for pre-orders.

Details about availability, distribution in your country and price are also available on the Mushroom Models Publications web site.

If you would like any information about the content of the book itself, you can contact us HERE
Thank you very much for your interest. We hope you will enjoy the book.
Paul "Changa" Mason & Darren "Motty" Mottram.